05/08/2014 06:27 PM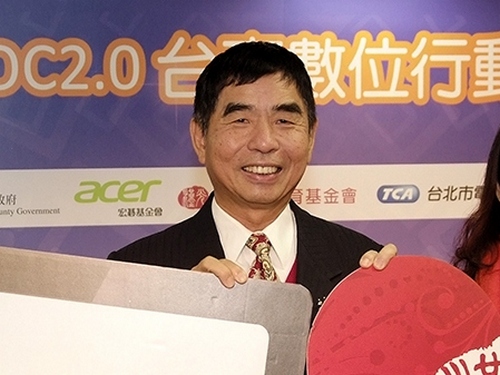 Taipei,May 8 (CNA) Acer Inc. Chairman Stan Shih said Thursday that he will recommendGeorge Huang, co-founder of the struggling Taiwanese PC maker, to replace himafter he steps down in June.
Ina press statement, Shih implied that Huang, 65, was being groomed since latelast year to take over as chairman of the company.
Asexecutive secretary of the Transformation Advisory Committee that wasestablished last November, Huang has been working with the committee members toreview Acer's reform initiatives and to develop a long-term vision for thecompany, Shih said in the statement.
Huangalso took part in the process of selecting a new CEO, Shih said, disclosingthat he and Huang together had interviewed the successful candidate Jason Chen.
"Thoughthe three of us sometimes have different opinions on an issue, we can reach anagreement quickly and implement the decision separately in the reforminitiatives," Shih said.
Heis scheduled to step down as chairman of the company on June 18 but willcontinue to serve as a director, lead the Transformation Advisory Committee andoversee Acer's cloud strategy.
Shihsaid he will recommend that Acer's board of directors choose Huang as Acer'snew chairman.
Huanghas been working as a supervisor at Acer since 2005. He is an independentdirector of Web portal PChome Online Inc., cell therapy company Bionet Corp. ofTaiwan, and Hong Kong-based entertainment group Golden Harvest.
Aceron Thursday nominated six candidates for the next election of its board ofdirectors, namely Shih, Huang, Chen, Shih's wife Carolyn Yeh, former CFO PhilipPeng, and Lin Hsin-yi, former chairman of the Industrial Technology ResearchInstitute.
Inaddition, the board nominated three candidates for the election of independentdirector -- F.C. Tseng, current independent director; Lee Ji-ren, a professorof International Business at National Taiwan University; and Cheng Wu, chairmanand co-founder of mobile media service provider Azuki Systems Inc.
Thecandidates' names will be submitted for approval at Acer's annual shareholders'meeting on June 18.
(By Jeffrey Wu)ENDITEM /pc
https://focustaiwan.tw/business/201405080028
Read more:
○ COVID-19 spreads, Taiwan mesenchymal stem cells can be expected for global medical rescue.
○ Firm helps hemophilia carrier have healthy child
○ Mesenchymal stem cell transplant greenlighted for clinical test